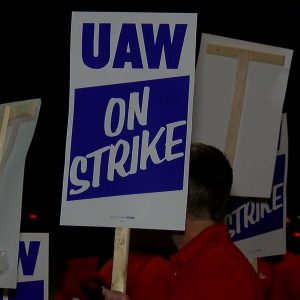 UAW Rally 10/9/19
October 8, 2019
Regional Rally in Support of UAW Strike!
The UAW Strike is still going strong. We're entering a 4th week on strike. At last word, the UAW leadership is saying that GM has gone back to past, rejected proposals.
We will have to continue to keep up the pressure on GM and the we'll have to show up with our brothers and sisters in the UAW to help keep up their fighting spirit!
They are in the midst of a fight that defends decent, middle-class standard of living for all people. If they lose this fight, it will hurt the living standards of entire other industries. We will continue to rally alongside the local UAW members each Wednesday evening until the strike is over and they have won!
10/9/19 6pm – 7pm
@ Corner of Driving Park and Mt. Read Blvd.
Parking is available at:
Federation of Social Workers, 740 Driving Park Ave, Rochester, NY 14613
UA Local 13, 1850 Mt Read Blvd North Srv Rd, Rochester, NY 14615