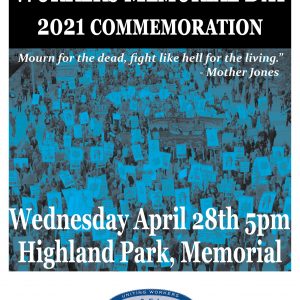 Rochester Workers' Memorial Day Commemoration
April 28, 2021 at 5:00 pm - 6:00 pm
Event Navigation
Rochester Workers' Memorial Day Commemoration

WHEN: Wednesday, April 28th, 5pm

WHERE: Highland Park, Workers Rights Memorial


Every year working people face unsafe working conditions. Every year working people lose their lives in workplaces that could and should be safer.

The last year however has been even worse. As a pandemic spread worldwide, it was thousands of working people that kept our communities running.

Again, bosses failed to prioritize our safety in too many instances. Too many workers couldn't get proper PPE. Too many workers were exposed to people every day without their health and safety being seriously prioritized.

Health care workers, social workers, grocery workers, utility workers, public transit workers and many others risked their lives to keep our society running in its worst times.

On April 28th we will remember them and recommit ourselves to the fight for genuinely safe workplaces.