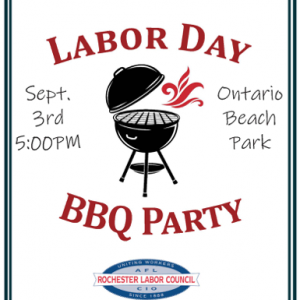 Labor Day BBQ 9/3/21
September 3, 2021 at 5:00 pm
Event Navigation
Join the labor community for a Labor Day BBQ on Friday, Sept 3rd!
This year, we weren't certain that we'd be able to bring you a Labor Day Parade. However, there will still be a Labor Day
celebration.
Join us at Ontario State Beach Park in the Beachfront Shelter at 5pm on Friday, September 3rd to celebrate Labor Day with the Rochester Labor Council. There will be food, drink and fun.